Login to your Rendered account
Click on 'Create new order' on the right side of the screen
Select your order type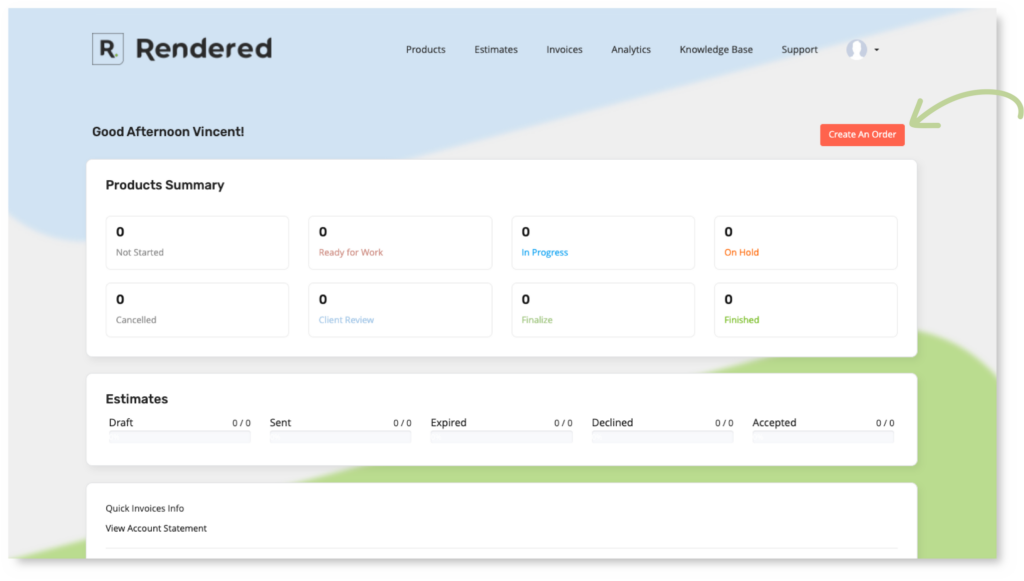 Standard items – Standard items include many different type of products such as furniture, home appliances, electronics, tools, sanitary ware, shoes, suitcases and bags.
Fast moving consumer goods (FMCG)

– also known as consumer packaged goods, include non-durable household goods such as packaged foods, beverages, toiletries, candies, cosmetics, over-the-counter drugs, dry goods, and other consumables.
After selecting your order type, you will enter the order creation screen, here you will need to fill in the order details and upload your reference data.
Choose your product type* – If this is your first time creating a product with us, this will most likely be a master product.
* see below for more details about the product types.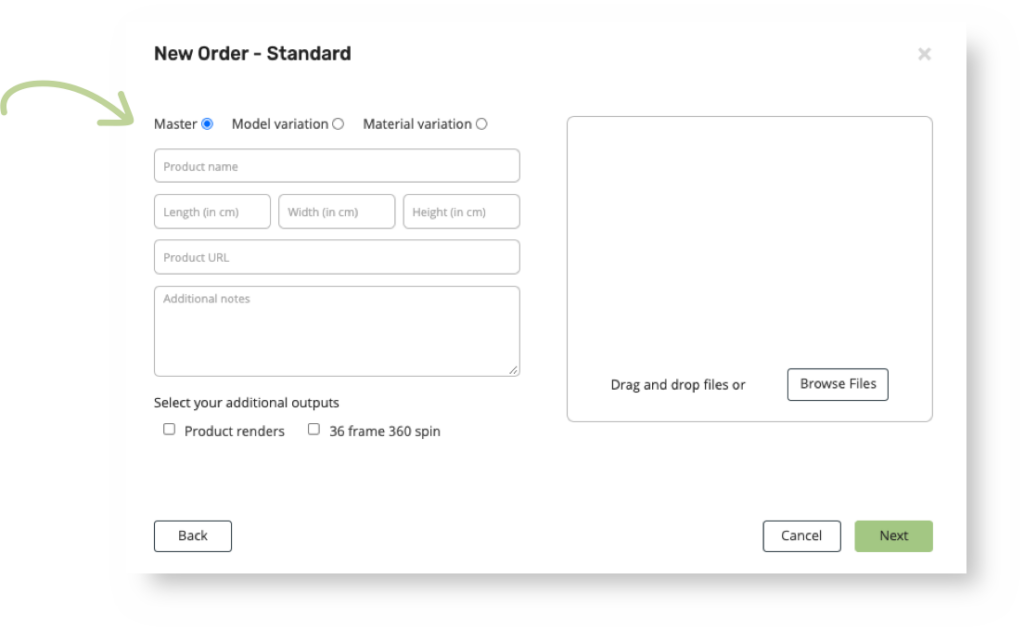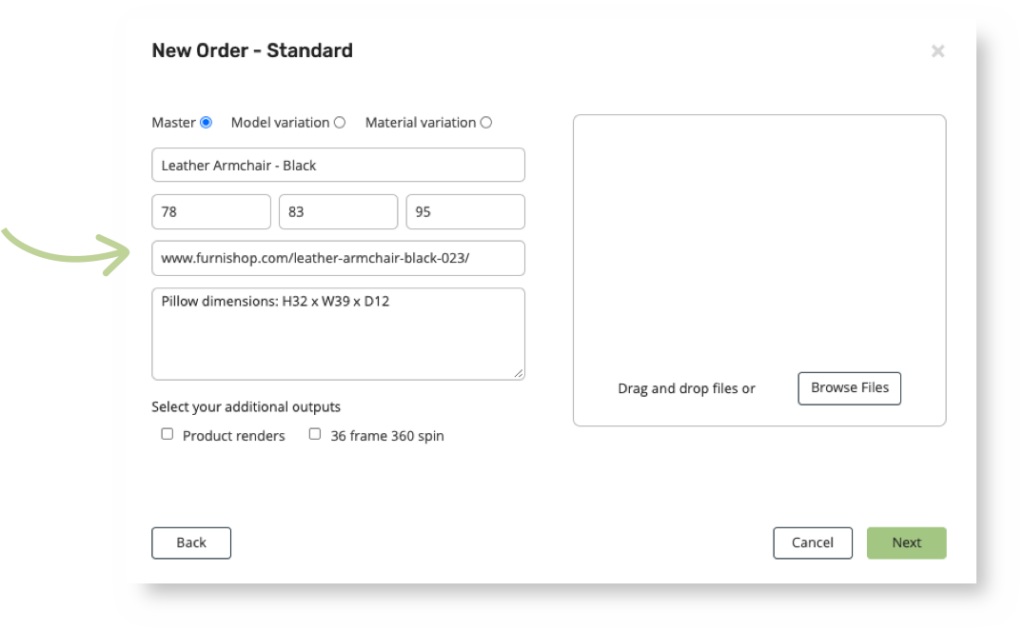 Fill in the required information and order details – be informed that this may vary based on the product type.
The product name is used for all final output naming, this name will also show on your estimate and invoice.
We require the product dimensions to be provided in centimetres.
A product URL or additional notes are optional.
Upload the reference data – this is required for every product: .png, .jpg, .pdf, .zip, .ai, .tiff
Select a primary reference file – this file will be used to match the structure and colors of the product.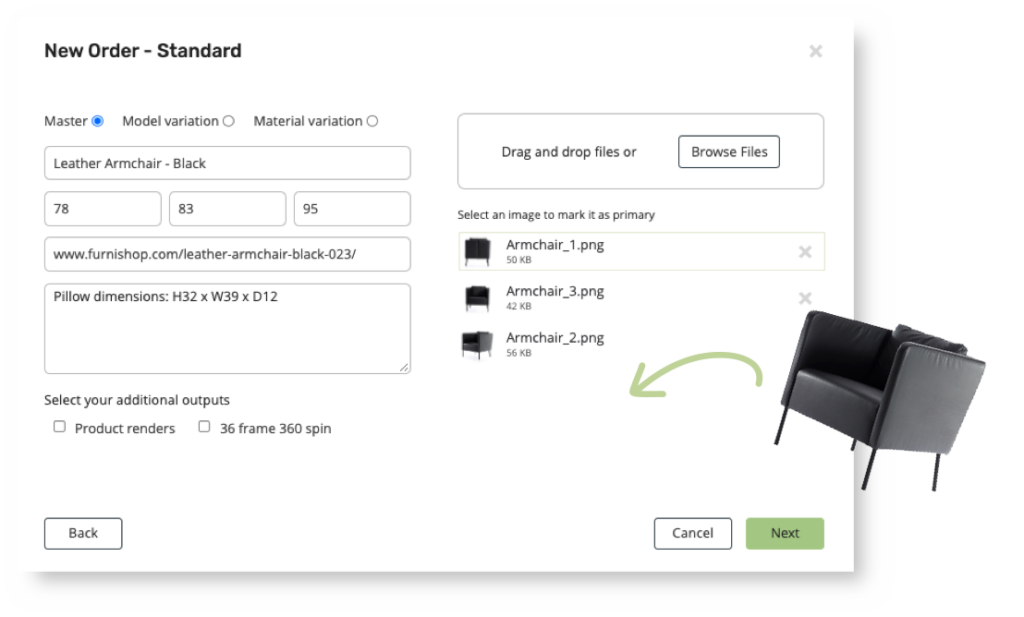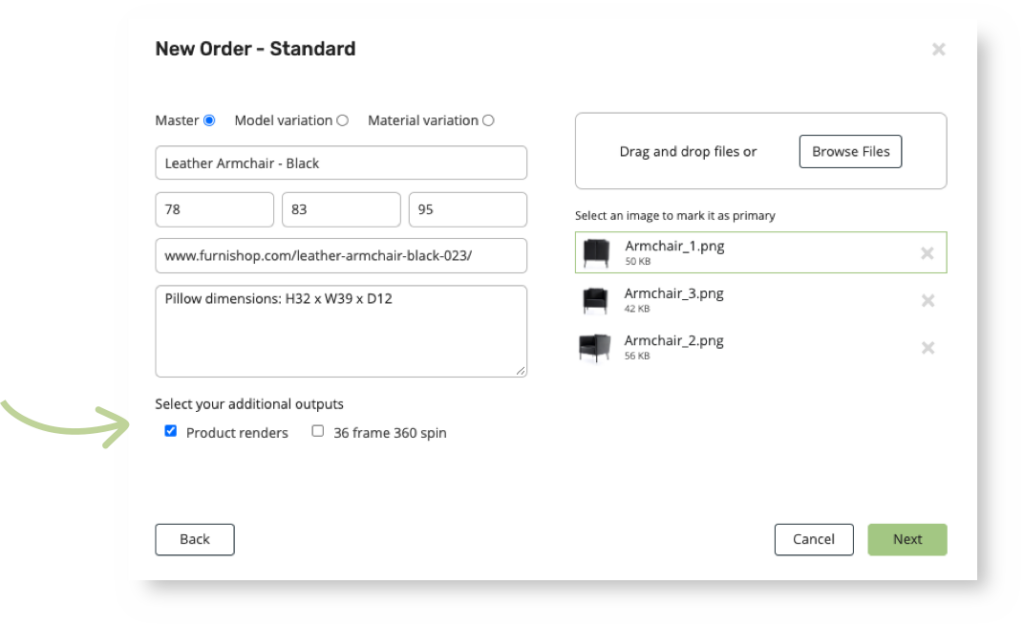 Additional output can also be selected, if you require product renders and / or 360 spin renders.
If you have chosen FMCG, GS1 product renders are standard output.
Rendered provides you with an overview of the order details & data that you have supplied and selected for your order.
Control that all the given information and data is correct before you click on 'Create'.
If you wish to modify any element before creating your order, click on 'Back'.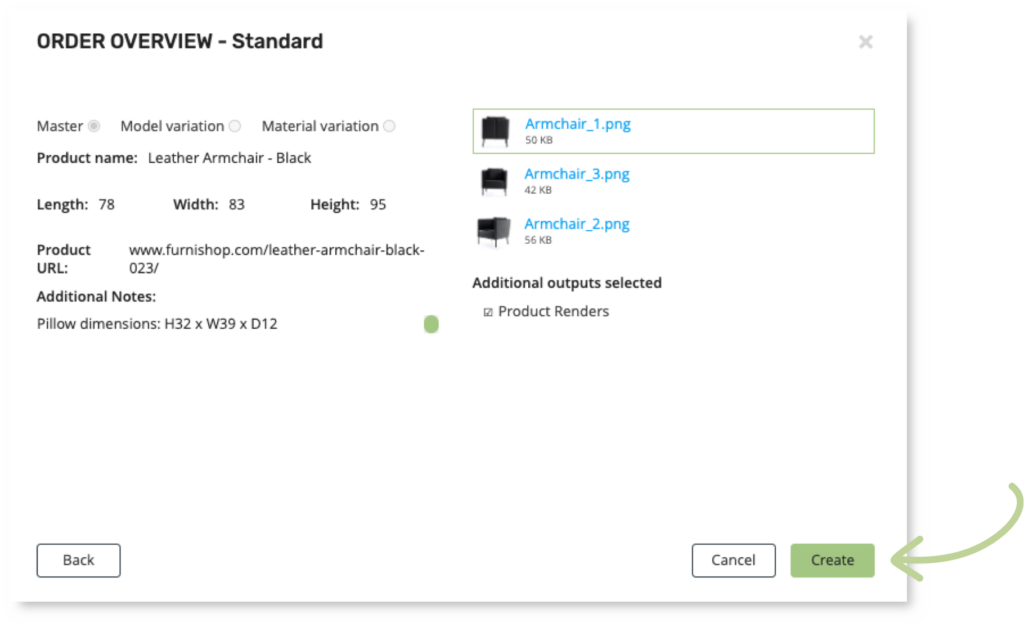 What are the different product types?
The product type defines what kind of order you will be placing and therefore what kind of work needs to be performed.
Master
The master product is the initial or main product you want to create. All orders must contain either a master product or refer to a master product when creating a variation.
Model variation
The model variation is an alternative or modification of a master product that you have previously created, for example, different legs for an armchair previously created or a different size of product.
Material variation
The material variation is an alternative or modification of a master product that you have previously created, for example, different colour or material type or different artwork on an FMCG product.
The Create an Order button is greyed out
If the order button is greyed out and it is disabled, it means that your billing details have not been filled in, or are incorrect.
Please go to your account settings – company details and fill out the billing details.